Welcome
I'm a programmer, web designer, and illustrator living in the Twin Cities area of Minnesota. I have over 10 years of experience as a professional programmer with a concentration on Microsoft technologies such as Visual Studio.NET and SQL.
I pride myself in creating forms and screens that are not only functional but also provide a solid user experience. Additionally, I design custom web pages using PHP, MySQL, and CSS. I also have a background in illustration and enjoy creating original artwork for personal and business use.
I'm also the creator the long-running business and technology webcomic, Business Casual.
Recent Works
Custom design work for established contractor group.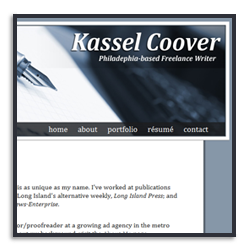 Personal Site for Freelancer.